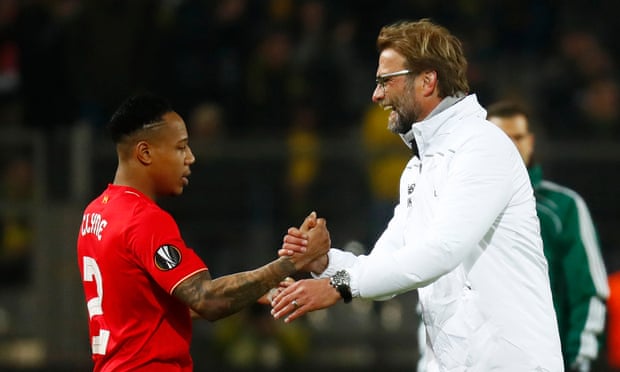 Thursday's Europa League quarter-final first leg tie against Borussia Dortmund was always going to be a tricky encounter for Liverpool, given their ability to overrun their opponents with incisive forward play from their abundance of talented players.
Klopp had raised eyebrows with the inclusion of Divock Origi as the lone striker, replacing Daniel Sturridge in the starting line-up. Realistically, we needed a goal to be in any way competitive, and the Reds produced a performance that the fans can be incredibly proud of.
Gaining a 1-1 draw at the Westfalenstadion, which gave Klopp a thunderous ovation, was virtually the perfect result against one of the best teams in the world, and it was by no means a fluke. Origi paid back the faith which manager Jurgen Klopp had in him with a superbly taken finish, in which he used his pace and physical strength to advance into the box, an asset Klopp must have been hoping he would use to his advantage.
Across the park, we matched Dortmund for organisation and work rate, with our defence absolutely crucial to the result. With commands by Klopp to drop deep and soak in the advances of the home side, our centre-back pairing of Dejan Lovren and Mamadou Sakho were outstanding, intercepting final balls almost as if it was a routine. Nullifying the threat of Pierre-Emerick Aubameyang was also a great step contributing to the result. Big performances were needed of the duo and they delivered, along with Nathaniel Clyne and Alberto Moreno, who were a constant threat down the left and right side of the pitch. It was disappointing that not one player picked up Mat Hummels' run for Dortmund's equalising goal, but the defence were otherwise perfect.
In midfield the likes of Jordan Henderson, Joe Allen, James Milner and Phillipe Coutinho were able to blunt the sharpness of Henrikh Mkhitaryan and Marco Reus as we continued to soak the pressure and successfully repel Dortmund. Some may say that the result places the tie in our advantage but with Dortmund, the threat is very much still alive and likewise performances will be needed for the return leg at Anfield next week.
It is worth noting that Liverpool have never lost a home game against a German side, which may place the match in our favour, but Klopp will not care for such statistics; sticking to the same formula of inviting pressure and later striking on the break will be crucial. Add a rocking Anfield come matchday, and all of the seeds are sown for another amazing encounter.
Returning to the Premier League and Stoke are the opposition on Sunday. The Potters are riding high in eighth place, just two points above us (although we have two games in hand) and they will be bringing their A-game to Anfield for our fourth encounter of the season.
Soaking the opposition's pressure has proven to be a handy alternative tactic, meaning that Klopp has tactical options to seal a third win of the season against Mark Hughes' men. Morale will be high after Thursday's result and the boys will want to continue in this impressive vein.
Jordan Henderson will almost definitely miss the game through injury, meaning that Joe Allen can step in and provide a wiry presence in the middle. Lovren is growing more and more into his own in a Reds shirt and, at this current moment, he should be one of the first names in the team sheet.
Thursday showed that we can gain an outstanding result against one of the most lethal sides in the world right now, and this should give us the confidence to deliver another good result on what will be a tough matchday on Sunday.