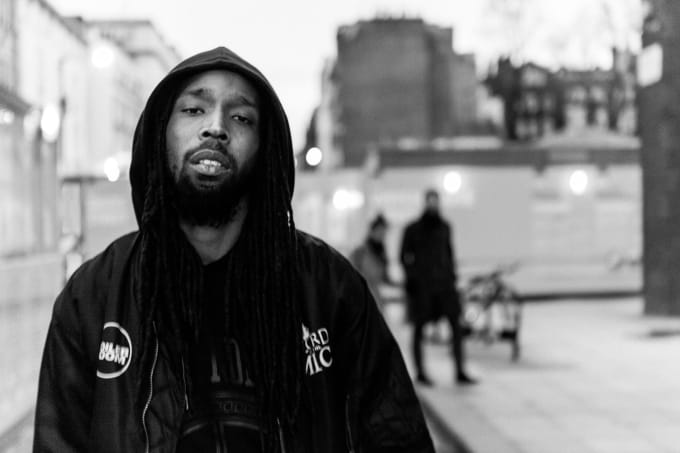 As featured in Complex UK
When you think about some of the most important voices and influencers in grime, many names spring to mind, and rightly so. There are many who have had a hand in nurturing and shaping the genre into the powerhouse it now is. They weren't necessarily the coldest on the microphone or the tastemakers making the scene shine, like a Wiley or DJ Slimzee, but through innovative methods of gaining exposure for the young stars, such as pirate radio or the lo-fi video recordings from the underground, it's hard to imagine the scene without these contributions. Someone who always had varied talent in abundance goes by the name of Jahmek "Jammer" Power. With a voice that is immediately recognisable, Jammer's is a presence you can't ignore. Whether it's providing skippy, eccentric, ad-lib-filled bars, or revolutionising the game with Lord Of The Mics, he always leaves his mark wherever he lands.
Some would say the Murkle Man doesn't get the praise his movements in the game deserve but, as part of Boy Better Know, Jammer has been reaping the rewards of a long and charted journey to the ascendancy. On top of that, he can mash down raves and lay bars against the best when duty calls. Especially when the very best emcees are lined up together in the hardest of posse cuts, Jammer stands out in the most memorable ways. Having said this, we look back at his career with a selection of his best guest verses.
Skepta — "Detox" f/ Boy Better Know (2016)
Beginning with the most recent, Jammer absolutely steals the show at the end of "Detox"—a track off Skepta's Konnichiwa album—with a fiercely energetic 8-bar exhibition. Coming up against his BBK brethren, he introduces the world to Dagenham Dave as he weaves his turn-up raps together so concisely that you believe every word you hear. It's Jahmek's raspy vocals that dominates the beat and makes this one of the finest features of 2016.
Frisco — "Motivation" f/ Jammer & Lay-Z (2012)
Pardon the pun, but Jammer is fully motivated on Frisco's mixtape cut "Motivation". Frisco was always going to lay down some fire, and Jammer accepted the challenge. After revealing his love for all things night time, the emcee slews the competition with slickness and shows that he isn't worried about what the next man is up to, with bars like: Decide if you rate me or you hate me, but none of them things don't phase me, I've got a ting on my arm from Page 3.
Skepta — "Duppy" f/ Trim, Wiley, Creed, JME, Jammer, Footsie, Bossman & Bearman (2006)
Enough has been said of this classic, also known as "Doin' It Again", and deservedly so. It is one of the most significant posse cuts in grime, containing a superstar cast of players. Each emcee brought their own individual style to the table, but Jammer was unstoppable with some iconic lyrics: I'm a big man but I'm not 30, yooo, watch me get dirty. On a track featuring the likes of Wiley, Skepta, Jme and Footsie, Jammer wasn't as eccentric as usual, but spat with purpose as he pledged to heat man up, roast man like turkey. A vivid image.
Wiley — "Saw It Coming" f/ Jammer, Eyes, JME & Syer (2006)
We should have seen these hard bars coming from Jammer. There is a real underground feel to this cut from Wiley's Da 2nd Phaze, and Jahmek Da World adds even more grit with a menacing 16 over Mizz Beats' menacing backdrop. Boasting his superior knowledge of the scene, nothing gets past him as he makes the way up to royalty. Jammer is even humble enough to admonish some demons (Jammer is a blatant g, but there is still hate in me) as he sets aside all eccentricities to lay down the real for the haters. It's an intensity that is rare for him, but a method to convey his feelings in the most and direct and hard-hitting manner.
Skepta — "I Spy" f/ Jammer (2007)
On this flip of Rebound X's legendary "Rhythm & Gash" instrumental, from Skepta's studio debut Greatest Hits, both emcees came with the heat but, in my opinion, Jammer just edged his BBK cohort. Such a beat required a different sort of performance, and Jahmek sounded super hungry, highlighting his far-reaching ambition, from making Ps just like Coca Cola, to always targeting Nike instead of Gola. Very relatable, I might add. Over production that made literally every MC who hopped on it shine, Jammer added charisma and flair and, dare I say, humour, to the track's coldness.
President T — "Best In Britain" f/ Jammer (2016)
"Rhythm & Gash" makes another appearance on this list, but is almost unrecognisable thanks to Zeph Ellis' flip. A chaotic number, Jammer joins the legendary President T in the booth, and oozes braggadocio and composure. With a flow reminiscent of Novelist on "1 Sec", Jammer remains direct amidst the dizzying barfest: Got it on lock like all of my dreads, them man there can't talk to the dread, make MCs go walk with the dead. "Best In Britain" is one of his strongest vocal performances to date.
The Streets — "Cinema Barz" f/ Jammer (2011)
Jammer has certainly sharpened his flows and rhymes over the last few years, able to meet any beat with a rollercoaster of quotables. On this collaboration with The Streets, he blows the track out of the water from the very beginning: Yo, I was born a winner, born again sinner, eating great, three course dinner / I'm on a mic with Skinner, no chinchilla, MC serial killer, iller. Mike Skinner's instrumental borders jungle territory, but it serves a perfect environment for Jammer's bullet-fast flows and puns. Wordplay is arguably his greatest skill, and it shines all over this banger.
Mumdance — "Tarahtid" f/ Trim & Jammer (2010)
Stepping slightly away from grime, Mumdance's "Tarahtid" bangs with exotic sitar plucks and colourful synths, and Jammer is vibing all over the beat. Trading bars with Trim, the two are on song throughout, before Murkle Man attacks the track on a solo tip with amusement and fluidity. The chemistry between Trim and Jammer is kinetic, almost as if they could spit together all day and be content, and both bring some coldness to this Mumdance masterpiece.
Chip — "School Of Grime" f/ D Double E & Jammer (2015)
You can't expect anything from a song titled "School Of Grime", other than to be educated by some true masters. This is certainly the case on Chip's 2015 banger. Coming after arguably the genre's very best, D Double E, Jammer is relentless with his trademark skippy flows, calling out all challengers and describing their inferiority to him. Referencing everything from N.A.S.T.Y. Crew to WiFi, he is speaking from a position of strength, having literally seen it all. In the end, Jammer shows just how high up he is in the school of grime.
Footsie — "Spookfest" f/ Jme, D Double E, Jammer, P Money & Chronik (2012)
On the self-produced "Spookfest", Newham General Footsie went all out on the features, including another standout Jammer contribution. The beat, minimalist and menacing, is perfect for him and his threatening bars: I'll pop star just like a champagne cork, body outlined in chalk. He had to come for emcees' throats considering the stellar competition around him, and he didn't disappoint. Jammer has this profound ability to turn up his intensity levels mid-verse, and he sounds a whole new level of focused as a result. The Murkle Man does exactly what his name suggests.